Payton's Project has an ongoing college scholarship program for outstanding students who have persevered while experiencing bullying/cyberbullying and for those who have demonstrated efforts to "Freeze Bullying and Cyberbullying" in their schools and communities. Our goal is to award 24 $1,000 scholarships each year.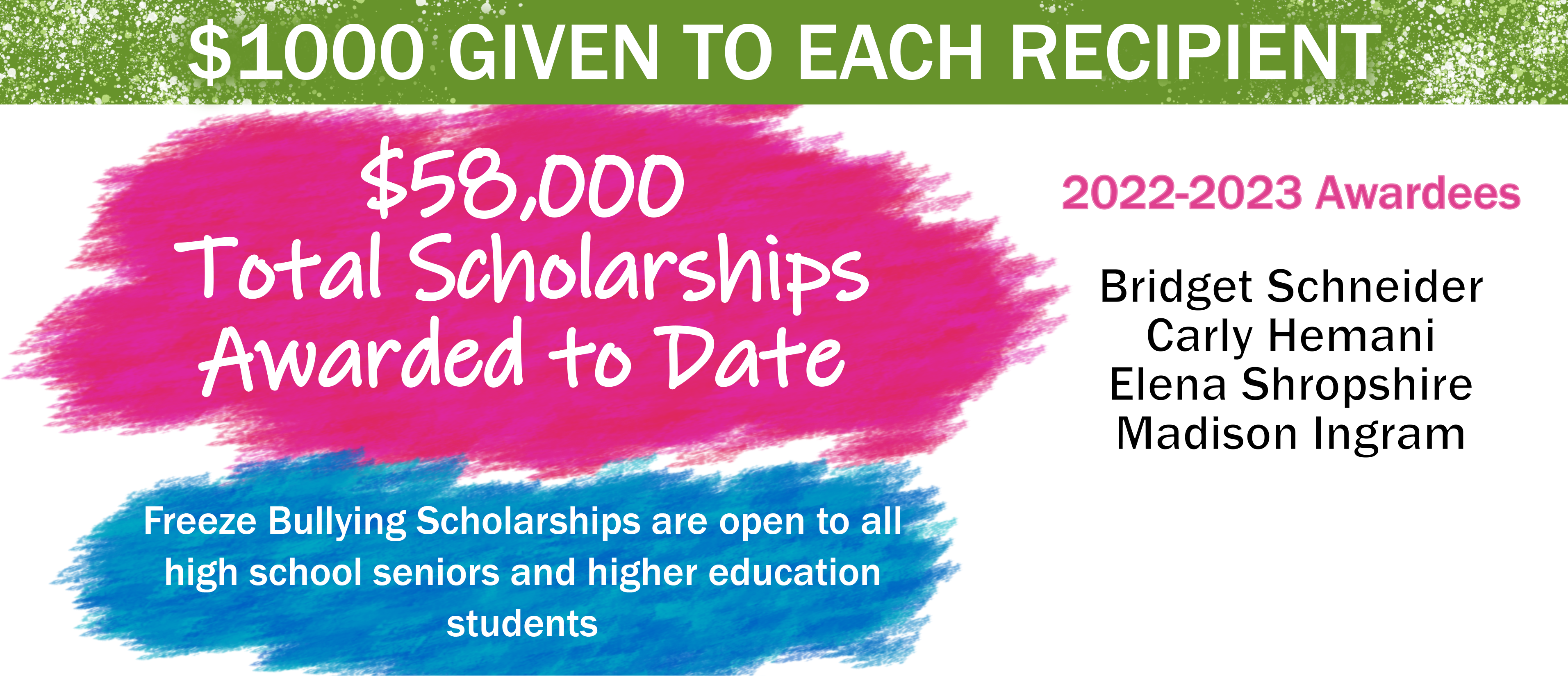 Submissions in the 2023-2024 school year will open on Monday, March 4, 2024.
Deadline for applications will be Monday, April 1, 2024.
Together, SPARK, the Education Foundation for Prince William County, Virginia Public Schools, and Payton's Project, Inc. have established an annual scholarship award in the amount of $24,000 to be provided in $1,000 awards (up to twenty-four (24) total awards), to eligible high school Seniors, who intend to pursue studies at a higher learning institute, or to current higher learning institute students.
Each school or higher learning institute may submit multiple students for consideration. A designated school or higher learning institute counselor should ensure that applications are submitted in accordance with the Eligibility Criteria listed below.
Must be a current High School Senior, or an active student enrolled in an accredited higher learning institute who intends to pursue or continue studies at an accredited higher learning institute.

Submit a video (less than 5 minutes) or written essay (not to exceed 2 pages, 12pt, single spaced) that MUST identify and discuss the applicants' efforts and actions to directly combat bullying in their school / community or identify and discuss how the applicant has been a victim of bullying and persevered.

Obtain two (2) written recommendations from a member of the faculty, staff, or administration at the school in which he or she is enrolled. This recommendation is to serve as validation that the applicants' words and actions promote an environment of acceptance and tolerance of differences within the school community.

Previous Freeze Bullying For Payton Scholarship Award Recipients may reapply each subsequent year for consideration for additional awards of $1,000, if the individual continues to meet the current Eligibility Criteria.
The Payton's Project Scholarship Committee will select and coordinate the announcement of recipients in May 2024. The scholarship awards shall be based on merit and qualifications and shall not discriminate against any person on the basis of race, color, religion, national origin, sex, gender, or disability.
Our hope is to honor students who, like Freeze Bullying for Payton, aim to promote awareness, education and positive change in response to the issues surrounding bullying and cyberbullying.
2016-2017 Awardees
Caroline Dewey
Jordan Shaw
Connor Peak
Jennifer Dang
Charlene Nguyen
Loza Asmare
Aditi Poudel
Isabelle Krieger
Savannah McNeil
Rockingham County Schools Awardee
Rockingham County Schools Awardee
Rockingham County Schools Awardee
2017-2018 Awardees
Emma Snyder
Aaron Paul
Hailey Hancock
Brandon Farbstien
Kyra Cauthen
Hayden Sarpong
McKennah Noh
Sylvia Chen
Michael Poore
Zoe Voettiner
Madison Moore
Taylor Covington
Emily Johnson
Heather Moser
Joshua Gruta
Everildo Hernandez-Morales
2018-2019 Awardees
Bethany Elliot
Victoria Barker
Iqra Noor
Emily Villacrusis
Caitlyn Joseph
Naomi Biela
Sarah Caufield
Olivia Santee
Olivia McCarthy
Jacob Neal
Hajrah Choudhry
2019-2020 Awardees
Spencer Todd
Kourtney Regalado
Emily Villacrusis
2020-2021 Awardees
Josiah Gifaldi
Emily Noumbo-Haji
Mekhi Mims
Avery Hunter
2021-2022 Awardees
Emmalynn McMurrer
Sydney Stafford
Claire Johnson
Philicity Collignon
Connie Lam
Abigail Villacrusis
Aimee Resnick
Anya Mischel
2022-2023 Awardees
Bridget Schneider
Carly Hemani
Elena Shropshire
Madison Ingram